Munksjo USA Inc.
5023 W. 120th Ave, #200
Broomfield CO 80020
Phone:  +1 720 633 7252
2023 will mark thirty years in the paper industry with his main focus on Décor paper.  Wayne has a Bachelor's Degree in Finance and Marketing and an MBA in Accounting.  He has had direct responsibility for the sales of Décor paper into N. America for the last 22 years from Munksjo and prior to that ArjoWiggins.  Most recently, due to the spin-off of the Munksjo business from Ahlstrom on Oct 1, 2022, Wayne created and leads a new US entity – Munksjo USA Inc. – to handle the import, sale, and distribution of papers from the Munksjo Group into North America.
Keyland Polymer Material Sciences, LLC.
4641 Hinckley Industrial Parkway
Cleveland, OH 44109
Phone: +1 216 741 7915
Michael Knoblauch is the founder and president of Keyland Polymer Material Sciences. Keyland's business focus is Ultra Violet curable resins and powder coatings. Keyland has operations in Barcelona, Spain and Cleveland, Ohio. Michael has 30 years of experience in the decorative surfaces industry.  
Jane Lockhart Design
The International Centre
6900 Airport Rd, Suite 200, Box 76
Mississauga, ON L4V 1E8
Canada
Phone: +1 416 762 2493
While some kids grow up playing with dollhouses, Jane grew up designing, building, and refurnishing hers. It's no wonder she's an award-winning interior designer today.
Popular television personality, author and spokesperson, Jane is one of Canada's best-known experts in the world of design and colour.
Jane is immediately recognized from her role in the TV series, Colour Confidential, as a guest speaker at many home and design shows, and as a design expert on national talk shows such as CTV's The Marilyn Dennis Show and City TV's, Cityline. Her broad knowledge and straightforward approach as an authority on creating transformative experiences through good design has inspired viewers for more than two decades.
Since graduating as an award-winning student from Ryerson University's interior design program (Bachelor of Applied Arts Interior Design), Jane has never stopped building her brand.
Launched in 1997, Jane Lockhart Design specializes in interior design and renovation for retail, hospitality, home-building and residential clients. The Jane Lockhart Platinum Series, a Canadian-built, eco-conscious luxury furniture collection designed by Jane, was launched in 2011 for the design and architectural trade community. This was soon followed by a second Canadian-built furniture collection, Jane by Jane Lockhart, currently available at a growing number of major and independent retailers across Canada.
Jane's design work is regularly featured in publications across Canada and the United States. Jane Lockhart Design has been recognized with many awards from several national associations for its stellar design work.
Münzing Chemie GmbH
Münzingstraße 2
74232 Abstatt
Germany
Phone: +49 7131 987 121
After completing a bachelor's degree in chemistry at the University of Stuttgart, Julia Mörk subsequently specialized in the coatings technology field of expertise in the course of her master's degree in applied surface and material sciences at Esslingen university.
Since 2017 she has been project manager for new developments in the business unit paper & coatings additives at MÜNZING and dealt with all topics related to surface modification. In 2020 she switched responsibility to additives used for laminates as well as reconstituted and engineered wood and took the position as BU FENTAK Processing Additives.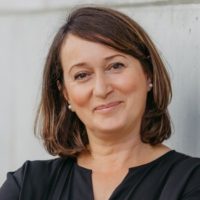 Sappi North America 
255 State Street
Boston, MA 02109
USA
Phone: +1 617 423 5415
Nadia is an accomplished business developer, truly multicultural, with international experience in design & strategic product development. With a background in textile engineering, her career expands over several industries including market leaders in fashion brands, decor design, texture development and digital printing. Since 2014, Nadia Oukid is global design manager at the Casting and Release paper division of Sappi.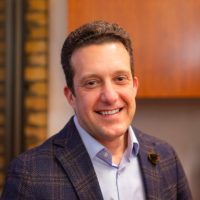 CGS ORIS Americas
100 North Sixth Street
Suite 242A
Minneapolis, MN 55403
USA
Phone: +1 612-455-8903
David began his career in the graphic arts industry roughly 30 years ago. The early part of his career was focused on the production side of the business in New York City. He joined CGS ORIS | Americas in October of 2000 and has been instrumental in the overall development and growth of the company. David has a tremendous passion for the graphic arts industry and an advocate for our customer's success. He currently leads our team of CGS ORIS, Business Development Managers, helping to educate the Industrial Manufacturing Market on the benefits of 3D Surface Imaging, Color Workflow and Digital Print technologies.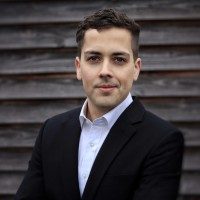 AFRY Management Consulting (Deutschland) GmbH
Lutzstraße 2
80687 München
Germany
Phone: +49 151 550 171 57
Michael's product focus is on wood-based panels and decorative surfacing materials, especially paper-based surfaces in Europe and China, having spent 12 months in the country. His work focus is on economic and demand analysis, scenario planning, cost competitiveness and modelling as well as due diligence projects. Michael has a M.Sc. in Industrial Engineering and Management, Hochschule Mannheim Germany and Tongji University in Shanghai, China and a B.Eng. in wood technology, Rosenheim Germany.
AVA CAD CAM Group Ltd
3 St Georges Street
Macclesfield
Cheshire SK11 6TG
UK
Phone: +44 1625 506 800
Duncan graduated from the Universities of Wolverhampton and Reutlingen University of Applied Sciences in 1994, with BA Honors in European Business Administration and German. After working in the gravure and decorative printing industry for three years, Duncan joined the growing software company AVA CAD CAM in 1998. Initially providing technical support to the Northern European market, he was promoted to Global Sales Manager in 2004 and then to Commercial Director in 2012. AVA CAD CAM provides design and colour solutions, support and workflow consultancy to the décor, flooring, wallcovering and textile industries.
Munksjö Arches S.A.S.
48 Route de Remiremont
88380 Arches

Phone: +33 3 29 32 60 00
After receiving his Master's in Paper Engineering, Nicolas started his career working in the paper industry by leading production units, driving process improvements, and a variety of development projects.  In 2007, he joined what is now the Munksjo Group, eventually becoming the Technical Customer Service Director for Décor Paper, leading a team providing global technical support to its customers.  Most recently, Nicolas received a Global Executive MBA and since Oct 1, 2022 has also taken management responsibility for the French entities of Munksjo – Arches paper mill and Apprieu R&D Center. 
Arclin USA Inc.
1000 Holcomb Woods Parkway
Suite 342
Roswell, GA 30076
Phone: +1 470 547 8378
Guillermo Velarde currently serves as the Director of Business Development, Growth and Innovation at Arclin, focusing on future business opportunities with new and innovative market solutions that create enhanced value downstream.
At Arclin, Guillermo has expanded his leadership roles within national trade associations and organizations to further develop the science-based understanding and knowledge of different product categories. He is an active advocate for the wood industry as a whole with special focus on the decorative side of the industry. These efforts are targeted to a better understanding of our products and to facilitate industry growth.
Prior to joining Arclin, Guillermo worked with leading industry players, including suppliers, customers, and competitors in individual or co-sponsored projects. His focus was on the performance of a wide diverse group of bio-based surfaces but the breadth of work included biomass solutions, additive manufacturing, construction and healthy homes, wood machining, and value-added solutions.
Guillermo has over 15 years of experience, with professional collaborations both in North America and Europe, as well as peer-reviewed and non-scholarly publications and has also conducted numerous national and international presentations.